Yul Edochie is the only famous son of legendary Nigerian actor Pete Edochie that we know. However, that is about to change after another Nollywood actor Kingsley Abasili claims Pete is also his father.
He made this interesting claim after photos of him and Pete Edochie popped online after many people discovered the striking resemblance he shares with the veteran actor. When netizens asked him if he's related to Pete, he answered in the affirmative. He also dared them to go ahead and ask Pete Edochie.
Kingsley Abasili wrote: "Stop asking me, please. Yes, Pete Edochie is my Dad. Go ahead and ask him when you meet him! #CuriousJournalists" Photo sourced from Kingsley Abasili's social media handle.
There have been speculations that the duo could be related following their striking resemblance and the fact that both hail from Anambra State.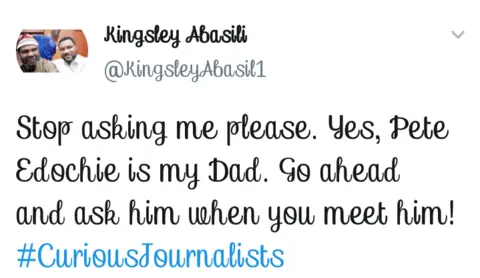 The views expressed in this article are the writer's, they do not reflect the views of OTVNews.